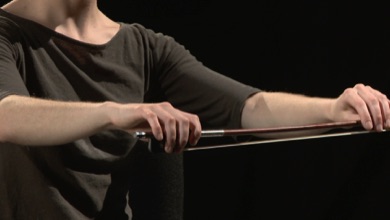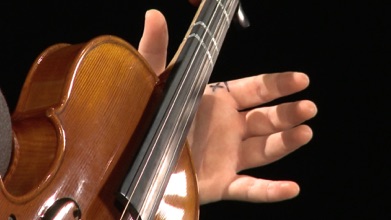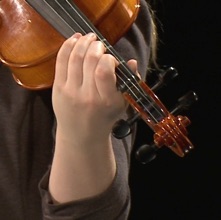 Chapter descriptions and links to YouTube playlists
The Art of String Teaching was published by GIA in 2019. The book's chapters are organized in a way to facilitate reading assignments for university courses. The book contains musical examples and is designed to be placed on a music stand and used in class. QR codes are placed in the text that can be scanned using a mobile device in order to view the YouTube videos of the techniques described in the text. In order to place the book in a spiral binding the content needed to split into two parts. Part 1 contains Chapters 1–7 and Part 2 contains Chapters 8–14. I will briefly describe the contents, and organization of the book and provide links to the chapter playlists.
Chapters 1: The Instruments
Chapter 2: Historical Overview: Orchestral Stringed Instruments, Influential Teachers, and String Education
The content of Chapters 1 and 2 is designed to provide a concise introduction and overview of the orchestral stringed instruments and their rich history. The majority of students in my string technique courses are voice, wind, percussion, or keyboard principals, so this information serves as an "orientation" to the string education branch of the music education discipline.
(no video playlist for Chapter 2)
Chapter 3: Conceptualizing, Planning, and Assessing String Instruction
Chapter 3 is a short chapter that provides the reader with a brief overview of my philosophical approach to a string education curriculum. The remaining chapters develop the ideas that are first presented in this chapter.
Topics:
Sequence of Technique
Comprehensive String Education
Creative Musicianship
Connections with History and Culture and Interdisciplinary Relationships
Aural–Based Musicianship
Assessment
(no video playlist for Chapter 3)
Chapter 4. Foundations of String Playing: Posture, Instrument Position, and Left Hand Position
Chapter 5. Foundations of String Playing: Bow Hold, Bow Stroke, Foundational Repertoire
Chapter 6. The Developing Beginner: Part 1
Pre–Bow Shifting Games, Beginning Shifting Games with the Bow, Repertoire for the Beginning String Class, Teaching Repertoire by Ear, Circle Bows,String Crossings, Extending the Bow Stroke, Left Hand Finger Hopping, Pattern 1 Scales and Arpeggios in First Position, Development of Tuning Skills
Chapter 7. The Developing Beginner: Part 2
Music Reading, Method Books, Orchestral Repertoire for Beginning Strings, Slurs, Learning to Manipulate the Bowing Variables, Correct Bow Arm Movements for the Detaché Bow Stroke, Common Bow Arm Problems, Body Movement While Bowing, Learning the Role of Fingers in Bow Hold, Switching from Arco to Pizzicato, Finger Pattern 2: Whole–Half–Whole pattern, Hooked Bowings, Left Hand Independent Fingers
Chapter 8. Intermediate Level Technique: Part 1
Bow Retakes and Recovery, Collé Bowing, Martelé Bowing, Cello Extensions, Finger Pattern 3: Half–Whole–Whole pattern, Finger Pattern 4: Whole–Whole–Whole pattern, Chromatic Alterations: Finger Patterns 1–4, Finger Substitution and Bridging for Rapid String Crossing
Chapter 9. Intermediate Level Technique: Part 2
Spiccato, Double Up Bows, Sustained Bow Strokes, Shifting, Vibrato
Chapter 10. Intermediate Level Instruction
Tuning Pedagogy, Organizing Instruction and Home Practice, Music Reading, Materials, and Repertoire, Assessment of Student Learning
(no video playlist for Chapter 10)
Chapter 11. Advanced Level Technique
Violin and Viola Fourth Position and Fifth Position, Cello and Bass Thumb Position, Advanced Harmonics, Double Stops, Ornaments, Three Octave Scales, Sautillé Bowing, Heavy On-the-String Spiccato, Advanced String Crossing, Ricochet and Flying Spiccato, Special Effects Bowings, Advanced Pizzicato Techniques
Chapter 12. Advanced Level Instruction
Topics include: Conducting an Advanced Orchestra, Self–Assessing Your Conducting Technique, Rehearsing and Programming for Success, Teaching Materials, Improvisation, Eclectic Styles, Composition, Music Reading, Music Theory, Music, History, and Culture, Engagement with the School and Community.
(no video playlist for Chapter 12)
Chapter 13. Rehearsal Strategies
Chapter 13 builds on the pedagogical information from earlier chapters and places it into an orchestra rehearsal context. I provide suggestions for addressing tone quality, intonation, rhythmic precision, dynamic contrast, phrasing, style, and expressive interpretation. Some of this information originated in articles I wrote that were published between 2000 and 2017 in American String Teacher and Music Educators Journal.
(no video playlist for Chapter 13)
Chapter 14. Building and Maintaining an Orchestra Program
Chapter 14 provides information about building and sustaining a successful music program. While I focus on running a school orchestra program, much of the information can be used in a youth orchestra or private studio context. Topics include effective teaching and management, understanding the needs and motivations of your students, community relations, and administration.
(no video playlist for Chapter 14)
The Appendices include:
Repertoire to Learn by Ear in Beginning String Classes
Rhythmic and Melodic Flashcards for Teaching Music Reading
Composing Worksheets
Method Book Analysis Template
Three-Octave Scales and Arpeggios in All Major and Minor Keys
Rubrics and Rating Scales
Items for Written Examinations and Topics for Written Assignments for String Techniques and Methods Courses