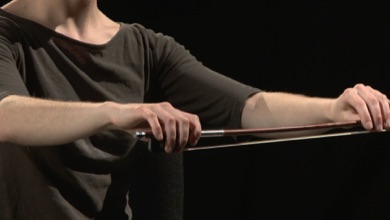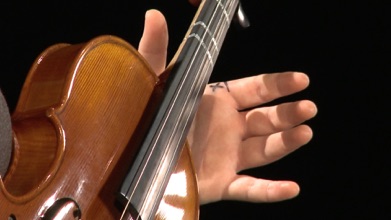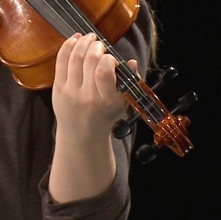 Welcome
I am in the process of giving the SPN another major upgrade in content and design for its 20th birthday. The old QT movies were not displaying properly in many browsers and some of the links to other web sites were outdated. The newly designed website contains brand new movies shot in HD with help from my U-M students as actors for the movies, and a complementary YouTube channel. I will add the new content as I finish it, so please keep checking in.
Format of the Site
Pedagogical content is organized so you may search by instrument or by technique using the menu links at the top of the page.
I have also included information on a variety of topics under the string education menu.
Author Bio
Michael Hopkins is an Associate Professor and Chair of Music Education at the University of Michigan School of Music, Theatre and Dance in Ann Arbor, where he teaches undergraduate courses in string techniques, orchestra methods, and music technology, and graduate courses in psychology of music and research methods. Prior to joining the faculty, Hopkins was an associate professor of music at the University of Vermont, from 1999-2010, where he was conductor of the UVM Orchestra and taught courses in music education and music technology.
Acknowledgements
This notebook began in 1995 as a compilation of notes taken from lectures during "String Pedagogy," a class offered by Robert Culver, Professor Emeritus of Music Education at the University of Michigan School of Music. A tremendous amount of information has come to me since that time through workshops, courses, conferences, and conversations with colleagues.
I would like to thank my wife Carolyn Lukancic, who has given me assistance and support with this project for many years. I received tremendous insights from my double bass lessons with Ed Krolick and Stuart Sankey. Special thanks go to Bret Smith, James Froseth, Steve Reiley, Alec Mariani, Steve McNeal, Cameron Law, Lori Buonamici, Sandra Lascarro, Abby Alwin, Chris Hill, Anne Ogren, James Gross, Carol and Mark Palms, Anthony Stoops, Bob Phillips, Bob Gillespie, Gerald Fischbach, Andy Dabcyzinski, Randy Sabien, Roy Feldman, John Dunlop, Pam Reit, Ira Morris, Andrea Yun, Mark Mutter, and all the other great people with whom I have worked with and learned so much from.
Thank you Hannah and Grace for being a daily inspiration and for teaching me how to play the violin and cello!
Finally, I would like to thank my wonderful students at the University of Michigan who have made valuable contributions to the website in class projects. Special thanks to Allie Lahnala, Julia Knowles, and Lauren Rodewald for providing the video demonstrations contained in this publication.
I created my website in response to an idea that all people in the world, regardless of where they live, could get access to quality information about string pedagogy. It is my sincere hope that the information on the website will continue to help improve the quality of string teaching and learning throughout the world.